Click here to submit a prayer request
5 Important things Jesus said about prayer: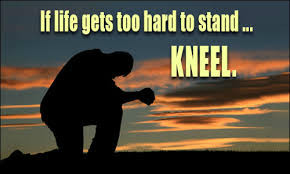 1. Pray without a desire to be seen ~ And when you pray, you must not be like the hypocrites; for they love to stand and pray in the synagogues and at the street corners, that they may be seen by men. Truly, I say to you, they have their reward. But when you pray, go into your room and shut the door and pray to your Father who is in secret; and your Father who sees in secret will reward you. (Matthew 6:5- 6)
2. Reconcile with others before praying ~
[I]f you are offering your gift at the altar, and there remember that your brother has something against you, leave your gift there before the altar and go; first be reconciled to your brother, and then come and offer your gift. (Matthew 5:23-24)
3. Pray before any important decision ~In these days he went out into the hills to pray; and all night he continued in prayer to God. And when it was day, he called his disciples, and chose from them twelve, whom he named apostles. (Luke 6:12-13)
4. Do not pray with empty phrases ~And in praying do not heap up empty phrases as the Gentiles do; for they think that they will be heard for their many words. (Matthew 6:7)
5. Be bold and believe God will answer your prayer ~Therefore I tell you, whatever you ask in prayer, believe that you receive it, and you will. (Mark 11:24)
Prayer is our sincere communication with God. It is where we put our whole hearts naked before Him. We expose our weaknesses, vulnerabilities, fears, uncertainties and imperfections before our Sovereign, Omnipotent, Omniscient Omnipresent Father who hears and responds. We bring back to God every promise, make intercession for others, and exercise our authority in God's word, in the name of Jesus over the enemy! In our prayer we have power to bind and loose things in heaven and in earth. We change and shift atmospheres, speak things that are not as though they were all while confidently believing God is able to do "exceeding abundantly above all that we ask or think, according to the power that worketh in us,". We know our battle is a spritual one that we war by faith, through the Spirit in prayer!
2 Corinthians 10:4-6 "For the weapons of our warfare are not carnal, but mighty through God to the pulling down of strong holds; Casting down imaginations, and every high thing that exalteth itself against the knowledge of God, and bringing into captivity every thought to the obedience of Christ; And having in a readiness to revenge all disobedience, when your obedience is fulfilled."
Prayer is Important To Us